Enterprise Bank first opened its doors for business in October 1998. Since that day, it has continued to change the expectations small business owners have for their financial institutions. The main reason is this: Enterprise Bank is the region's only bank created to address the particular needs of entrepreneurs, startups and businesses in distress. 
The Bank's founders all successful, local business entrepreneurs—recognized an absence of resources for small business owners in the Western Pennsylvania region. They noticed that community banks were too small to handle the lending demands of a new business and mega banks viewed small businesses as too risky to lend to.
Their idea was to create a bank that understood the needs of this unique group and to offer banking services and business solutions that would develop Pittsburgh's small businesses—all of these in a friendly, personable atmosphere that places the client's' needs first. 
They did this through several methods unique to Enterprise Bank. First, each business client has a unique Relationship Manager that acts not only as a lending officer to the clients but as a trusted business adviser and consultant. Your Relationship Manager cares about the welfare of your business because they have a vested financial interest in the success of your business. This is because each Relationship Manager functions as a small business owner within the Bank, operating their own profit center or virtual "branch" within the Bank.
100% of their personal compensation is derived from a percentage of the interest income generated by their loan portfolio less that same percentage of the cost of the interest expense paid to their deposit customers and of their portfolio bad debt/loan loss reserves, as well less 100% of the costs of operating their branch/business within the Bank. These costs include the RM's direct staffing and benefits costs, sales and business development expenses, overhead expenses, and their own compensation. When your business succeeds and grows, your Relationship Manager's business succeeds and grows, as they receive a long term annuity like compensation only as long as your business is viable and remains a customer of the Bank. If your business suffers or fails, your Relationship Manager suffers a loss in his or her business, which has a direct impact on their compensation as well.
Also, if you are not satisfied with the Bank's level of service and refinance elsewhere, your Relationship Manager's income stops with regard to your relationship. That is why they strive to have your business thrive and remain a long term and satisfied client of the Bank.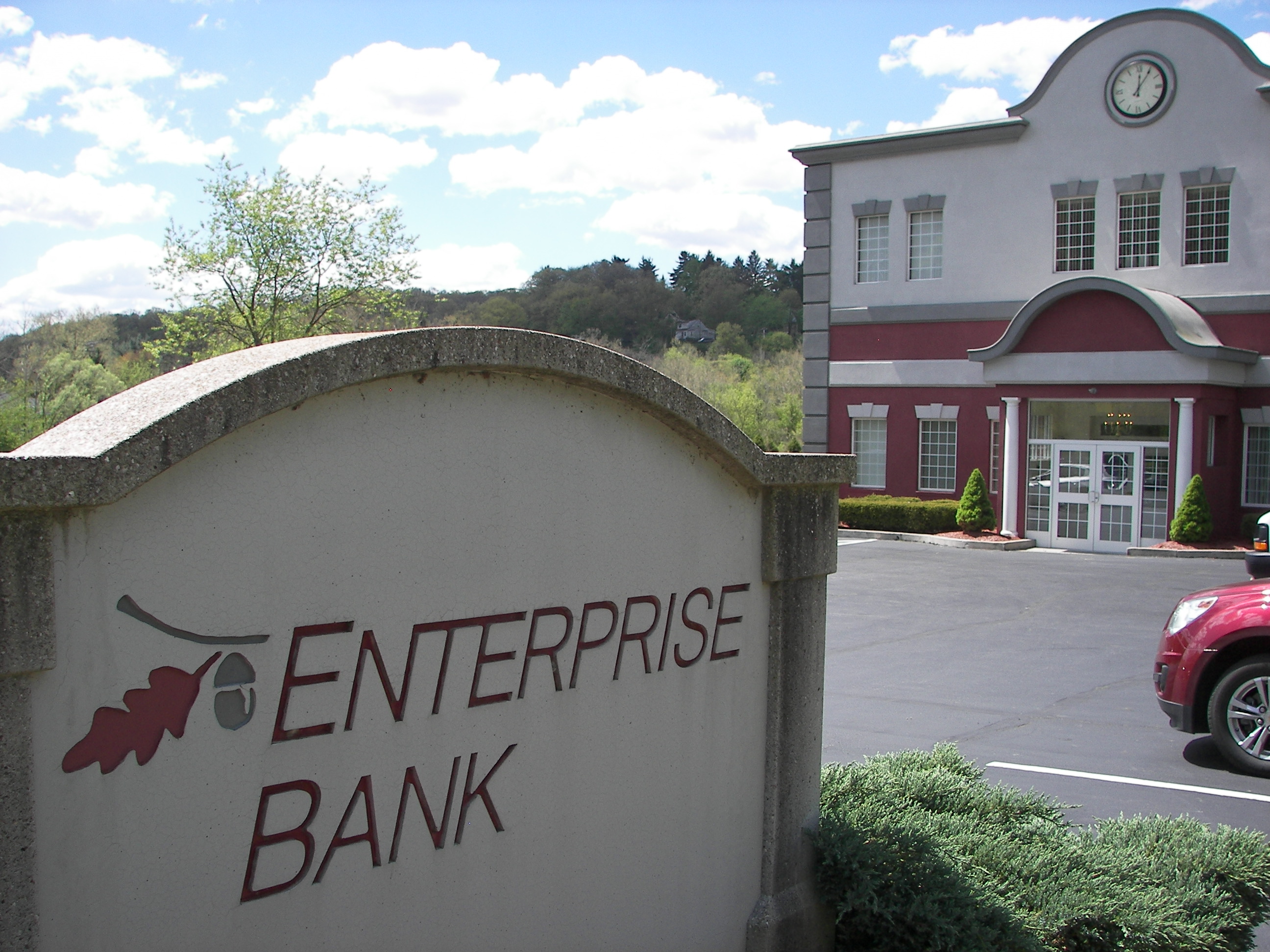 Another unique feature to Enterprise Bank is that it only has one 'brick and mortar' location. Headquartered in Allison Park, Enterprise Bank only operates one location in order to keep its overhead costs to a minimum. These savings are returned to our customers in the forms of paying interest even on our business checking accounts and with higher interest rates being paid on our deposit accounts than many of our competitors in the region. Although this may seem to be a disadvantage for our business clients, many of which would normally use branch banks to deposit money or purchase change, Enterprise Bank has created several banking services available to conduct your banking transactions in the comfort of your office without having to spend your valuable time as the business owner or paying for a key employee to travel to a branch to make a deposit or complete a banking transaction.
The most popular is Enterprise Connection, our online banking system that allows you to manage your account, etc. Enterprise Bank also has Remote Deposit Capture and Remote Deposit Anywhere, remote deposit services that enable clients to make bank deposits right at their desks through a scanner and/or smartphone! 
As the Bank has matured, it has continued to evolve into non-traditional business services as well. New subsidiaries were created that would further enhance the relationship between Enterprise and its clients. At the present, there are four: Enterprise Business Consultants, Inc.; Enterprise Insurance Services, Inc.; and Kuzneski & Lockard, Inc. Enterprise Business Consultants, Inc. offers outsourced services relative to accounting/bookkeeping, promotional marketing, website design, information technology services as well as training in each of these three areas of expertise.
Enterprise Insurance Services, Inc. provides comparative analysis of various insurance policies, rates, and companies for your business' needs. Kuzneski & Lockard, Inc. is a traditional commercial and residential real estate brokerage company with office locations in both Indiana, PA and Allison Park, PA. Enterprise Bank still continues to expand and develop its array of small business services to improve and enhance our relationships with our existing and prospective bank clients as well as small businesses that do not have a present relationship with the Bank. New products and services are continually developing in each of the subsidiaries to better service their customers. In the next few years, we also plan to begin offering investment management and retirement plans that small business owners can offer to their employees.
With all of these changes, Enterprise Bank will continue to offer superior and ethical customer service in a personable setting. This is because we view Enterprise Bank as more than a financial institution. We see it as an opportunity—the opportunity for an entrepreneur to receive the attention and support needed to nurture the seedling of a business into a strong and mighty tree, just as our symbolic acorn logo represents.
Our customers are more than the result of a simple lending or deposit transaction. They are instead the result of our conviction that every business deserves the chance to start, grow and succeed. It is our belief because that is also the story of our company, which was and is to bring an entrepreneurial spirit to a traditionally non-entrepreneurial commercial banking industry.